Dionysus is Bacchus. Bacchus is Dionysus.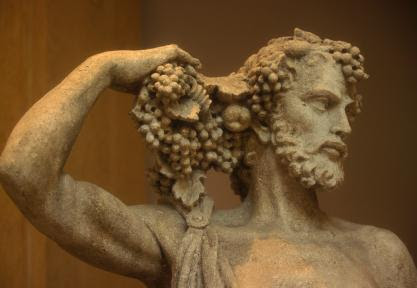 (although the Greek depiction is a little more stately, same god!)
The intersection of Greek snd Roman Cultures is ancient
AND alive and well in Asheville.
Ciao Asheville hosts a fundraiser for UNCA Celebration of Dionysus
on Tuesday, December 3rd from 5:30 to 7pm at Golden Fleece!
$35 for appetizers that span the cultures with Greek and Italian Wines.
Reserve by Calling (828) 575-9525 or online:
https://metrowinesasheville.com/store/product/
fundraiser-for-unca-celebration-of-dionysus/

Meanwhile, revisit the pleasure principle and indulge
in "How to Be an Epicurean"
By Catherine Wilson. Reviewed by Wall Street Journal here:
https://www.wsj.com/articles/how-to-be-an-epicurean-review-
revisiting-the-pleasure-principle-11569367582



Book at Malaprops here:
https://www.malaprops.com/book/9781541672635

Your Read it With Wine @MetroWines!
*** Agyros Santorini 2017 ***
100% Assyrtiko, Stainless steel fermentation, volcanic and sandy soil.
Founded in 1903, Argyros Estate is on the island of Santorini,
famed for its spiraling vines and white washed churches. Yiannis Argyros, 3rd generation owner of the estate took over in 1974 and today,
Matthew Argyros the 4th generation of family winemakers continues
his father's legacy using traditional techniques
The estate vineyards are primarily in Episkopi and Pyrgos,
prime locations for Assyrtiko. The ungrafted vines range in age
from 30 to over 150 years, and are trained into basket-shaped bowls,
a traditional technique called "kouloura".
The soil of Santorini is naturally immune to Phylloxera and other vineyard pests, reducing the need for synthetic herbicides & pesticides.
Estate Argyros practices sustainable viticulture, using composted grape must
as fertilizer, and plowing the vineyards with mules.
Assyrtiko is known for its high natural acidity.
This wine is true to character, with flavors of citrus, lemongrass and stone.
It is medium-bodied and elegant with great finesse.
$29.99 at wine.com and, you guessed it, unavailable. $29.99 at Vivino
$28 @MetroWines