1 minute reading time
(268 words)
Uncorked and Spelt
From The MetroWines Book Suggestion Department
and Holiday Gift Alert Desk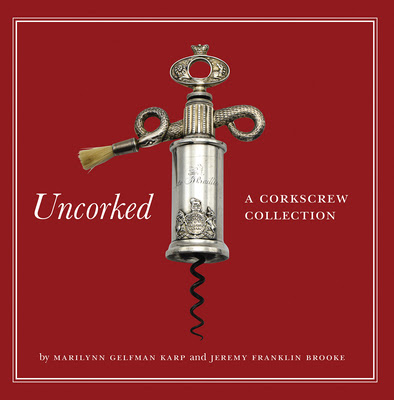 Ever since the standardized wine bottle came into use in the 18th century,
wine drinkers have sought a convenient means of removing its cork stopper.
In the beginning, they used whatever had a liberating potential.
The patented corkscrew emerged in 1795 and soon multiplied
into numerous permutations.

In Uncorked, Marilynn Gelfman Karp uses her own collection of corkscrews,
chosen for inventiveness and decorative qualities to trace the evolution of this tool.
Each example is illustrated with superb color photography and fully described.

This Book needs to be paired with a Fine Bottle With a Cork!
We went with Italian! In the world of wine things, Italians seem more wedded
to corks than other producers. Very few screw caps coming out of Italy.

James Suckling 93 Points
Bright lemons and oranges highlight raspberry and strawberry overtones.
The medium-bodied palateis finely wound up in tightly buttoned tannins
and driven along by vertical acidity and umami undertones.
Jeb Dunnuck 91 Points
Deeper, richer, concentrated, 2016 Montepulciano D'Abruzzo Riserva Spelt
offers terrific chocolaty, darker berry fruits, spice, new leather,
and dried herb-like aromas and flavors. These all carry to a medium-bodied red
that has good acidity, some building tannins that stay nicely tucked behind the fruit,
and a good finish. Another outstanding wine from this producer.
7-8 years of longevity. (cellar?)
Wine Enthusiast 90 Points
Wine EnthusiastBright red cherry melds with crushed granite and herbs
on the nose of this red. The medium-bodied palate is juicy in a vibrant red-cherry flavor, with a line of crunchy tannins and vibrant acidity propping it up.
Soooooo Internet Competitive at $22!
By accepting you will be accessing a service provided by a third-party external to https://metrowinesasheville.com/