1 minute reading time
(164 words)
Michelangelo, Graffiti & Stefanago Rosso
Did Michelangelo Dabble in Renaissance Graffiti?
https://www.wsj.com/articles/was-michelangelo-
a-renaissance-banksy-11605280000
(Well this really takes the torta, as they say.)
To consider this artistic conundrum, we need a high quality
yet unassuming bottle that does not take itself to seriously but knows
with great confidence exactly what it is and what it has to offer!
A Savio Soares Selection
2019 Castello di Stefanago Rosso 13.5% ALC
The bottle shot of this wine is somewhat underwhelming
and does not speak to its good breeding and high standards.
But THIS is where Rosso was raised!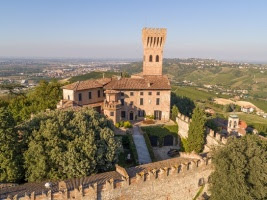 Rosso by Castello di Stefanago is a red wine produced in Oltrepò Pavese
with a blend of local grapes such as Croatina and Uva Rara together with Merlot.
With its ruby and violet color and floral and fruity scents,
the wine is smooth on the palate for easy drinking. Traditional, artisanal winemaking.
To enjoy this wine at its best, let it 'breathe" at least 15-30 minutes before serving.
*** Quiet Confidence: $16.99 ***
By accepting you will be accessing a service provided by a third-party external to https://metrowinesasheville.com/