*** Top Thanksgiving Picks***
Support Domestic Wineries on Thanksgiving

With fewer guests at The Thanksgiving Table,
this is the time to UP the wine served.
https://www.wsj.com/articles/the-hottest-ticket-in-town-this-year-
is-your-familys-covid-constrained-thanksgiving-11605467122
And Oh Yeah, after this year, you deserve it!
For specific menu pairings, Call (828) 575-9525
for Thanksgiving Suggestions from one of our Sommeliers @MetroWines.
*** The Sparkling ***

The Brut from New Mexico offers a crisp, and full-bodied sparkling wine,
which has developed rich complexity and fine mousse.
The allure of toasty finish from twenty-four months on tirage,
is a complement to the sophisticated apple and citrus flavor.
A blend of 75%Chardonnay and 25%Pinot Noir. ALC 12%
Winemaker's Note: Brilliant with ultra fine bubbles.
A wonderful fine bouquet dominated by green apple and grapefruit flavors. $18.99
New York Times: "For my money, the best sparkling wine in the US
is still produced by Gruet in a place about as far away
from Champagne as it could be."
Wall Street Journal: "Best Value sparkling wine in the U.S. under $30."
And 90 Points from Wine Spectator
*** The White ***
Trouchard Roussanne 2018 $24
($28 at the winery.)


The 2018 vintage will be remembered as nearly perfect. A cold winter with average rainfall
made for a late bud-break. Ideal spring weather allowed for a heavy set.
Mild conditions in summer and fall allowed the crop to slowly ripen and develop maximum flavor. Wines of 2018 are powerful but elegant with firm acidity and beautiful balance.
This could be the vintage of the decade!
Roussanne has been traditionally associated with the Northern Rhone,
where it is blended with Marsanne to make white Hermitage wines. In 1998,
3 acres of Roussanne were planted the Truchard Estate Vineyard.
Floral aromas of pineapple, honeysuckle, and jasmine with highlights of brioche and vanilla.
The palate is crisp, with clean flavors of fresh pear, honeydew melon and apricot.
Bright acidity provides a lengthy finish of citrus, mineral, and spice.
(Not new to shop. This label has been here since we opened the doors.
I thought its popularity, its uniqueness, would fade but no, never.)
*** The Red ***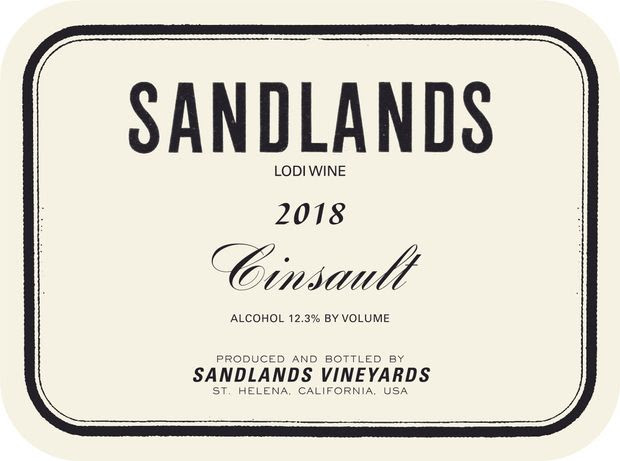 2018 Lodi Cinsault- 8 barrels produced. Planted in 1886 in Lodi.
Cranberry, candle wax, lavender. Black tea, violets, red cherry.
Crisp. silky finish. Crystalline, suave tannin finish. 13.3%ALC
Only 8 barrels produced.
Vinous Media Says 93 Points
The 2018 Red Table Wine (Lodi) offers a super-intriguing range of floral
and red/purplish berry notes, all in a mid-weight frame that is hugely appealing.
A lighter, more food friendly blend that features Cinsault, Carignane and Zinfandel.
(Stand By: This might be my pick of the year!)
$39.99 at union Square in NYC and SOLD OUT
$29 @MetroWines and ready for pick up!
Hey! Wait a minute! Let's Get Crazy!
Do an All Sandlands Thanksgiving with their Cinsault AND Chenin Blanc!
From Amador County, the Sandlands 2018 Chenin Blanc is made wine in French Oak.
Planted in 1979 and grown at 1500 feet in a mixture of iron rich volcanic quartz
and decomposed granite soils in a dry farmed vineyard.
Lemon verbena, peach blossom, bees wax, focused, structured finish. 12% ALC.
2018 sold out at winery.
$27 @Metro Wines and ready to make
this Thanksgiving special after all!
*** The Rose ***


There is a lot to love about this plush, summery rosé from Broc Cellars.
Chris Brockaway makes a wide range of California wine but the common denominators
are that they must be made without additives (other than a small amount of SO2 as necessary), always fermented with indigenous yeasts, using grapes from vineyards that do not use
synthetic chemicals (many of them certified organic), and of course they must be delicious.
The blend is 80% Valdigue, 14% Zinfandel, and 6% Trousseau. This year's rosé is a deep salmon color, bursting with notes of ripe, juicy strawberry and watermelon with a salty, savory finish and plenty of acidity that keeps this sunny Mendocino wine from becoming too fruity.
Limited Distribution. 2019 is $19.99