1 minute reading time
(233 words)
Trip to Italy
*** Trip to Italy ***


Ciao Asheville is Partnering with The Sister Cities
in Saluda and Hendersonville
to present the first program in our Travel Series
"Italy Off The Beaten Path"

Sunday, March 8th from 1 to 2:30
$15 for Presentation, Glass of Italian Wine and Light Appetizers
https://metrowinesasheville.com/wine-blogs/blog/entry/italy-off-the-beaten-path

In other Italian News:
2018 "Due Amici"
90% Montepulciano and 10% Sangiovese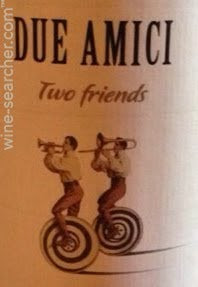 Click to image to check availability and price online. $13.99 @MetroWines.

Maurizio Marchetti is a charming character leading a charmed life.
He lives near the Adriatic coast of Italia in a region that sees nearly 3,000 hours
(200 days) of sun each year! Also, his wife is a cardiologist (so she brings home
the pancetta, as we like to say), leaving Maurizio free to pursue his two art forms: painting and making wine. Since he needn't rely on wine to earn an income,
Maurizio can afford to be as picky with his grapes as he wants. He is so selective
that he sometimes produces as little as a half bottle of wine per plant!
Maurizio's great-great-grandfather was an exotic spice trader,
sailing to the Far East over 250 years ago. He was quite successful,
allowing the family to buy the land that is now the Marchetti estate.
On their property, they have a castellino ('little castle') whose interior walls
have murals of Chinese sailors loading ships with the highly prized spices.
By accepting you will be accessing a service provided by a third-party external to https://metrowinesasheville.com/