12 minutes reading time
(2455 words)
The Sunday Newsletter @MetroWines
The Gift Giving Conundrum


Wall Street Journal asks: Functional or Fun?
https://graphics.wsj.com/off-duty-50/gift-guide-winter-holiday-2019/
Whichever path you choose to follow,
everything presents better with a bottle of wine.
We pair with anything @MetroWines.
One of the gifts suggested by WSJ is a traditional Alarm Clock
with a little timely pizzazz!
Husband and wife design team Jim & Chloe Read seek their inspiration from classic British clock designs of the 19th and 20th centuries. The Wideboy Alarm Clock's style hearkens back to mid-century timepieces, with an atomic dial and silent-sweep movement to maximize quietness. An ideal alarm clock for your nightstand, the Wideboy's larger profile (it's 8" wide) means it can also hold court in your kitchen or on your desktop or worktable. Its rectangular case has a matte black finish and digital beep alarm. The Wideboy Alarm Clock requires one AA battery (not included).
All That Said,
Give Form&Function and Wine
This masterpiece is inspired by British Design of the 19th and 20th centuries,
lets go with a wine that would have probably have been on the dining table,
if not the bedside table! that is, but of course, Bordeaux.
91 Points, Wine Enthusiast
"From the Haut-Médoc, part of the same property as Château d'Arsac in Margaux,
this wine is made with the same rich character and intense fruit and structure.
It is a dense, powerful wine, full of fruit with a solid background of tannins.
It will certainly age, so drink from 2025." ROGER VOSS
Wine Enthusiast says $40
We say $22 @MetroWines
*** Give Dinner and Indulgence ***
Wednesday, December 18th
ALL Sparkling Dinner at Celine&Company
Is an ALL Sparkling Dinner an Indulgence?
You Bet. And You Are Worth IT!
MENU and Information:
https://metrowinesasheville.com/wine-blogs/
blog/entry/all-sparkling-dinner-at-celine-co
CALL: (828) 254-9902
Give the Perfect Dinner Party
https://apnews.com/35284e1d52ae40fe806420ff9816d6df
NPR:
https://www.npr.org/sections/world-cafe/2019/10/23/
772606486/questlove-invites-you-to-a-mixtape-potluck

The book includes a guide to music, celebrity recipes, and timing.
But the tie that binds is Wine!
Let us pick the perfect paring for you.
In a hurry? Good all purpose holiday party wines,
considering flavor, versatility and price,
both from Neal Rosenthal Wine Merchants
2018 Colterenzio Pino Blanco, Alto Adige
90 Points from James Suckling

Displays a fresh aroma and flavour reminiscent of green apples
with a fruity palate and a touch of honeyed complexity
alongside crisp acidity and a refreshing, clean finish.
Not Widely Available. $14.99 @MetroWines
(You might be able to save a few pounds in London, but that's just silly.)
Colterenzio Pinot Nero $17.99

Brilliant medium ruby red with a fresh, fruity nose,
reminiscent of red currants and black cherry; medium-bodied,
round with soft tannins and ripe berry flavours well integrated with the acidity.
A stylish and elegant wine.
Give Chocolate
Cipriani (as in Harry's Bar) is offering these whimsical molded chocolate gift items 646-278 0500
Give a Pink Refrigerator Filled with Pink!
Specialty refrigerators with features like French Doors
and in new colors like pink and turquoise are ALL the rage.
Prepare for Spring!
Start with this All Year Long Rose from Tenerife!
La Araucaria Rosado, 1005 Listan Negro
by Dolores Cabrera Fernandez, 2018 $23
A Jose Pastor Selection
Greek author Homer describes a place in "The Odyssey" called Elysium.
It is "where the sea gives fresh life" and where notable men go to rest in the afterlife.
He goes further to call Elysium "a place where men live a sweet and peaceful life,
without snow, harsh winters, or rain, but a perennial cool air,
born of the breath of the zephyrs that the ocean exhales in a musical breath."
It has been said that the inspiration for this mythical paradise was taken
from a visit to the Canary Islands, the home of Dolores Cabrera Fernández,
a woman making wines so truly distinctive wines.
Her passion and soul rests in her centenarian vineyards,
vines with such noble beauty that it is easy to envision Dolores in her own paradise,
where the vegetables abound, fresh goat cheese is always at the ready,
and a stirring and profound glass of Listán Negro awaits.
This is a pure and vibrant expression of volcanic Canary terruño
with notes of red and black fruits, cracked peppercorns and purple flowers.
Pair it with grilled meats, poultry and fin fish, charred octopus or mojo rojo.
$25 at Royal Wine Merchants in NYC
$23 @MetroWines
Give Rosemary!
https://www.desertsun.com/story/life/home-garden/maureen-gilmer/
2019/11/09/many-uses-rosemary-desert-especially-during-christmas/4168993002/

Rosemary makes a lovely decorative plant around the holidays.
And it is a gift that keeps giving. Rosemary works from appetizers to cookies.
https://www.allrecipes.com/recipes/1072/ingredients/herbs-and-spices/herbs/rosemary/?page=2
Rosemary is native to the dry, rocky areas of the Mediterranean,
especially along the coast.
The genus name Rosmarinus derives from the Latin words ros and marinus
which together translate to "dew of the sea."
John Kerr of The Asheville School of Wine says:
"You want an herbaceous wine to pair with and highlight those flavors
in the rosemary. DAUO Sauvignon Blanc is a good choice."
92 Points from Wine Enthusiast
92 Points from Jeb Dunnuck
This lovely, bright and cheery Sauvignon Blanc proffers tantalizing aromas of grapefruit, pineapple and gooseberry, with hints of quince. Floral notes of lemongrass and acacia
are balanced with lychee and wet stone. Classily structured and elegantly styled,
a veritable explosion of crisp and juicy fruit flavors burst upon the palate.
Lemon chiffon, key lime pie and kiwi are accented with green apple,
white nectarine and pineapple. Decisively refreshing, this wine finishes lean
and clean with long lingering notes of dragon fruit, citrus and passion fruit.
$25.99 at wine.com and, wait for it, out of stock.
$16.99 @MetroWines and ON THE SHELF!
Give the Ultimate Guilty Pleasure:
A Lounge Chair
Say what you want, but if you are brutally honest,
you know you and they know they want it.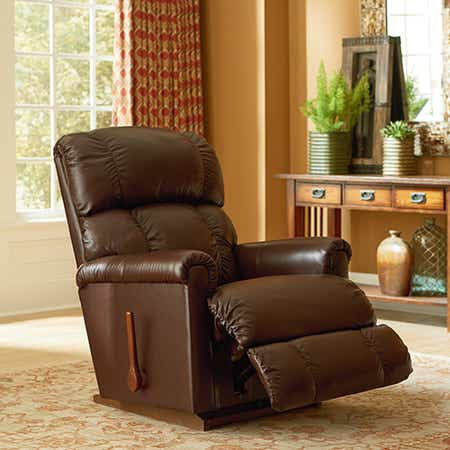 Manufacturer says:
"Recliners have an easygoing style that's just right for resting and relaxing.
Sink in and enjoy its plushly pillowed tall back and padded rolled arms.
The chaise seat and leg rest cradle your body in a continuous zone of comfort.
Use the convenient handle on the outside arm to raise the leg rest for reading,
relaxing or watching TV. When you're not reclining, it's a relaxing rocker with a smooth,
graceful motion. And it's calling your name."
(Is that a rosemary plant on the table? This is all coming together now!)
Your Recline With Wine :
is The BIG RED of The Week
Winemaker's Notes
Dark garnet red with a purple hue. The nose of this opulent blend
is incredibly flashy with abundant aromas of red currant, raspberry,
blackberry cobbler, spice and a hint of underbrush. French oak is subtle, yet present.
This powerful wine boasts copious amounts of juicy, ripe red fruit characteristics
and is extraordinarily soft and supple. In addition, hints of lingering milk chocolate
and cherry truffle notes dance on the back palate.
70% Cabernet Sauvignon, 15% Merlot, 9% Malbec, 4% Petit Verdot, 2% Petite Sirah
Wine Spectator, 91 Points
Warm and velvety in feel, with a well-toasted frame that melds into the core of steeped currant, plum and blackberry flavors. A loamy tug through the finish keeps this grounded.
Cabernet Sauvignon, Merlot, Malbec, Petit Verdot and Petite Sirah.
Best from 2020 through 2028.
If you buy 6, the price of $49 drops to $44.99 at Total Wine
BUT, the bottle is not in Greenville, you need to pick up in Cherry Hill, NJ.
$31.99 at wine.com
Or you could shop it @MetroWines for $24.00!
***********************************************************************
But you want white. OK. White can play cushy, plushy culture too!
BIG WHITE of the WEEK
Arrels Albarino, Clos Pissara
from Master Sommelier Emmanuel Kemiji
Not widely distributed.
The Wine Business is ALL About Relationships!
$26
Give a Book
Women on Food unites the radical, diverging female voices of the food industry
in this urgent, moving, and often humorous collection of essays, interviews, questionnaires, illustrations, quotes, and ephemera.

Edited by Charlotte Druckman and featuring esteemed food journalists and thinkers,
including Soleil Ho, Nigella Lawson, Diana Henry, Carla Hall, Samin Nosrat, Rachael Ray,
and others, this compilation illuminates the women who make up the food world.
Exploring issues from #MeToo movement, gender bias in division of labor and workplace,
and the underrepresentation of women of color in leadership, to cultural trends including food and travel shows, the intersection of fashion and food, and the evolution of food writing
in the last few decades, Women on Food brings together food's most vital female voices.

Charlotte Druckman is a journalist and food writer. She is the author
of Stir, Sizzle, Bake and Skirt Steak: Women Chefs on Standing the Heat & Staying in the Kitchen, and coauthor of Anita Lo's Cooking Without Borders. Druckman resides in New York.
https://www.malaprops.com/book/9781419736353
Your Woman Winemaker Read it With Bottle
2017 Sesti Rosso di Montalcino
Elisa Sesti, Winemaker
The property goes way back. UNESCO is always on premise
insuring that no-one tampers with history. Elisa's father, Giussepe is the most published astronomer in Italy and, hence,the 3 stars on the label.

"Just mid ruby. A hugely appealing nose that is a little wild with hints of cherry,
nutmeg and a top note of iron. Bags of minerality and supple,
lithe fruit on the palateand with firm, tasty tannins. Very good for the vintage. "
17/20, Walter Speller, Jancisrobinson.com

*** Give Fellini ***
Six year old Federico Fellini watched his first film at The Cinema Fulgor,
a small jewel box of a theater in his home town of Rimini.
That experience, as well as a profound lifelong attachment to his birthplace,
helped shape his extraordinary career as a film director.
The Smithsonian recently presented a program about Rimini and Modena,
two wondrous cities along the Via Emilia, an ancient Roman byway in Emilia-Romagna.
Both inspired the iconic director as well as today's travelers who love chic beaches,
fabulous food, ancient ruins, and distinctive art, culture, music, and architecture.
Fellini declared "Life is a mix of magic and pasta,"
and the glorious food and wines in Emilia-Romagna provide plenty of both.
Modena's famed cuisine ranges from extraordinary street food to Michelin-starred restaurants, including the internationally celebrated Osteria Francescana. This city takes pasta seriously:
A tortellini festival each September celebrates the shape
that by legend captured the navel of Venus in edible form.
Modena, the birthplace of Enzo Ferrari, also satisfies the appetites of car enthusiasts.
With more than 30 museums and private collections devoted to cars,
the city hosts the lively annual Motor Valley Festival, highlighted by the Mille Miglia,
a thousand-mile parade of vintage autos traveling from northern Italy to Rome and back.
So what do you need to Go Fellini for The Holidays?
Pick up a book on Fellini at Malaprops
https://www.malaprops.com/search/site/fellini
"Amacord" if you can find it!
And or See "Ford vs. Ferrari"
Read about it here: https://www.forbes.com/sites/chucktannert/2019/11/14/
ford-vs-ferrari-the-real-story-behind-the-most-bitter-rivalry-in-auto-racing/#9fb7ca24af5e
Pasta Grannies: the Secret of Italy's Best Home Cooks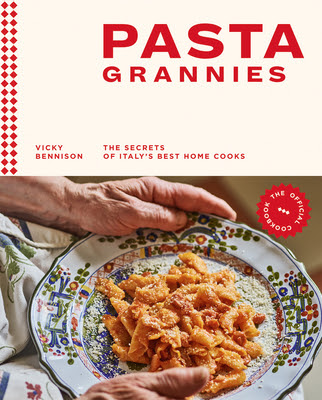 "When you have good ingredients, you don't have to worry about cooking.
They do the work for you." – Lucia, 85
Inspired by the hugely popular YouTube channel of the same name,
https://www.youtube.com/watch?v=5N8k5bffZ7A
Pasta Grannies is a wonderful collection of time-perfected Italian recipes
from those who who have spent a lifetime cooking for love: Italian grandmothers.
Featuring over 80 easy and accessible recipes from all over Italy,
Pasta styles range from pici, a simple to make hand-rolled spaghetti,
to lumachelle della duchessa – tiny, ridged, cinnamon-scented tube.
More than just a compendium of dishes, Pasta Grannies
tells the extraordinary stories of these ordinary women and shows you
that with the right tools, authentic Italian cooking is simple, beautiful and achievable.
Buy the place next door!
Wall Street Journal Says: Sambuca isn't alone in resorting to such tactics. According to www.casea1euro.it, 16 towns in Italy, most of them in the poorer south, are selling abandoned houses for as low as €1—about $1.11. The catch: Buyers need to renovate them.
Other depopulated areas of Italy offer other financial incentives to Italians or foreigners. The northern region of Emilia Romagna pays up to €30,000 to young couples who buy or renovate a house in small communities in the Apennine Mountains, and gives tax breaks to companies that move there.
Entire Story: https://www.wsj.com/articles/in-italy-would-be-idylls-go-for-a-song-11575979201
And a bottle of Lambrusco
from Emilia Romanga @MetroWines
Dry Sparkling Wine in the Frizzante Style

Lini's wines are renowned for their signature freshness and classic dry character.
Thanks to Fabio Lini's artisanal approach to sparkling wine production,
their bright red fruit and berryflavors are balanced by juicy minerality.
Their clean but lingering finish makes them an ideal pairing for a wide variety of cuisines.
Blend: 85% Salamino, 15% Ancellotta
$15.99 @MetroWines
Veula! Fellini.
Give Murder!
Holmes for The Holidays
https://www.wsj.com/articles/what-to-give-mysteries-11574443100
Sherlock, of course. But What's The Old Boy Drinking?
The most "wine" story was "Sign Of The Four," in which Holmes drank red burgundy
from Beaune for lunch, but old Hungarian Tokay and three glasses of port after dinner.
For those wishing to emulate the great detective 100 years later, we have "Beaunes" shelf.
If those are too high, try a Santa Barbara County Pinot Noir.
As you might expect, Sherlock favored vintage Port. But let's get real and value minded.
"Drinking beautifully now," as Sherlock would have said. Graham's Six Grapes:

Six Grapes has won a remarkable 7 gold medals and 2 trophies at the most prestigious international tasting competitions over the last two decades. This is Graham's Reserve Port and is one of the house's signature wines with remarkable quality, finesse and elegance.
The distinctive depiction of the six bunches of grapes on the bottle originates from the marks long used in the Graham's Lodge to classify the quality of the wines in the casks.
The six-grapes symbol is Graham's age-old mark of quality, used the very finest wines.
Six Grapes is a big-hearted wine, sourced from the same vineyards that contribute
to Graham's famed Vintage Ports. It closely resembles a young Graham's Vintage Port in style: full-bodied, with rich black fruit on the palate, and fragrant blackberry aromas.
This wine can serves as an everyday Port for the Vintage Port drinker.
Six Grapes is bottled when it is still relatively young in order to retain its freshness
and characteristic opulence. Once bottled it is ready to be served and drunk
and should be served slightly cool, between 12 and 16º Celsius.
*** Channel Sherlock for $26 ***
And of course, Holmes, as Englishman, necessarily drank a lot of Claret or Red Bordeaux, notably in "The Dying Detective" and "The Cardboard Box."
By accepting you will be accessing a service provided by a third-party external to https://metrowinesasheville.com/