2 minutes reading time
(380 words)
Thanksgiving in NC Calls for Biltmore
Last Call for Thanksgiving
*** Paging BILTMORE ***
I know what you are saying. I can hear you chortling. Yes, chortling.
We only recommend the wines that we have tasted and
have been tested by our Asheville Wine focus Group.
In a blind tasting, over 40 customers compared these Biltmore wines
to nationally know brands including Sonoma Cutrer and Josh.
Women Winemakers have taken over at Biltmore and are steering the process
in the right direction. And you may not think that vintages sell out at Biltmore
but they do! No worries. We planned ahead.
Have out of town guests? Surprise them!

Biltmore Estate 2015 Chateau Reserve Sparkling Blanc de Blanc
Let's start with sparkling. The Biltmore "Methode Champenoise" Brut
is an award winning classic. Its fine bubbles and rich golden color complement
the complex flavor. This premium sparkling exhibits a strong fruit aroma,
neat acid and slight taste of hazelnut. As a dinner wine or cocktail,
the clean tart finish pairs nicely with a variety of foods.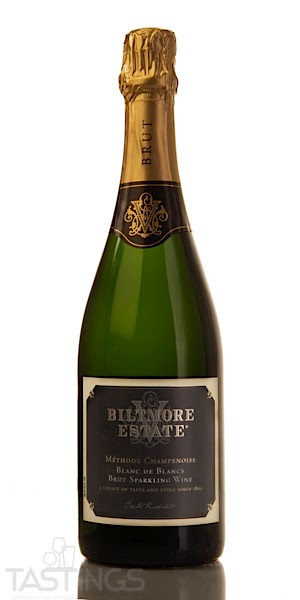 A few years back, we attended a blind tasting at Ruth's Chris Steak House
in Biltmore. This bottle was sandwiched in with 10 of the big names.
Almost unanimously chosen as the second choice, many picked it as the winner!
Put it on your table with confidence! $23 @MetroWines

Just a little interlude here. The predecessor to Ruth's Chris Steak House
was Chris Steaks on Broad Street in New Orleans. This is the original building
with the original sign and Ruth's name after she bought the place.
And the rest, as they say, is history.



This North Carolina Chardonnay is in the French Style. The Focus Group
preferred the Chardonnay from California Grapes but staff liked this one.
$14.99



The grapes of the Vanderbilt Reserve Pinot Noir thrive in cool climate California, Russian River Valley in Sonoma County. The reward is a complex and expressive
wine with an almost delicate sensation. The strawberry, raspberry, vanilla,
and well-integrated oak aromas give way to supple fruit flavors. Oak aged.
Pair this luscious red with chicken, mushroom dishes, salmon, and turkey.
$19.99. A quality Pinot Noir for under $20? Almost never!



A soft, easy-to-drink wine that presents dried herb aromas on the nose
along with rich blackberry flavors on palate. Finishes with smooth tannins.
$16.99
By accepting you will be accessing a service provided by a third-party external to https://metrowinesasheville.com/