3 minutes reading time
(619 words)
Terre Rouge Viognier, CA
"Just in time for summer, our fresh 2015 Viognier is perfect for a picnic or backyard gathering. Easy open screw cap! Our 2015 Viognier is organically-grown on our Fiddletown estate in granitic soils. Zesty fresh, floral, and spicy aromatics with fruit notes that suggest classic white peach and apricot flavors. This a very balanced example of California viognier that is more like its French counterparts."
TERRE ROUGE means "Red Earth". This vermillion-colored soil is one of the hallmarks of our region. Our vineyards are in soils that are largely granite and volcanic-based. The TERRE ROUGE portfolio is composed of wines made from Rhône varietals grown in the rugged and varying terroirs of this region: Syrah, Grenache, Mourvèdre, Viognier, Roussanne, Marsanne. High elevation sites up to 3200' contribute to the complexity of our wines.
Our winemaker, Bill Easton puts his family name, EASTON, on our non-Rhône varietals wines. The wines are crafted from varietals that have traditionally worked the best in Amador County and the Sierra Foothills: ancient and old-vine Zinfandel, Barbera, Cabernet Sauvignon, and Sauvignon Blanc. Under the Easton label we also bottle small selections of varietals new to the Sierra Foothills: Grenache Blanc, Pinot Noir and Cabernet Franc.
The style of our red wines emphasizes deep color, balanced flavors, full middle palate, and a long finish, with power and finesse. They gain complexity with age. Our whites are aromatic, flavorful with nice texture, and balanced with good acidity. They also show an amazing mineral sense that is derived from our stony mountain soils.
We make over thirty different wines, many of which are very small production (100-500 cases). Each is unique and site-specific with a sense of place (terroir) all of their own. Our goal for the last 25 years has always been to make the finest wines possible that can be placed on a table with the best wines of the world.
We were Green before Green was Green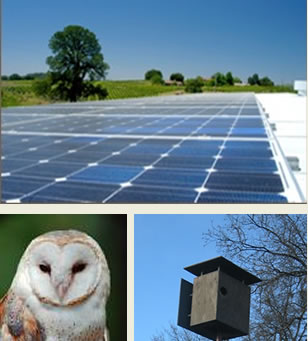 At Terre Rouge and Easton we strive to manage our business and vineyards with as little impact on the environment as possible. Here are some interesting and fun facts about what we do.
1. The winery and tasting room facilities are solar powered. The sun provides about 90% of our needed electrical power to run pumps, press, cooling units and to keep the wine cellar and our customers happy on hot summer days. On sunny days, our PG&E meter runs backwards!
2. All the grape waste (pomace) during harvest is spread onto the zinfandel vineyard at the winery.
3. Our vineyards are farmed sustainably. We mow, we disc, we French plow, we don't use chemicals.
To keep the rodent population in check, we have Barn Owls housed in special pole boxes. We also have Bart, the resident cat.
4. In the winter we spread fertilizer on our Fiddletown vineyards with a special mix from Grover Landscaping in Vernalis. The raw material for this compost comes from curbside green waste containers in Berkeley, San Francisco, Amador County, Sacramento County and more. If you live in these areas, your green waste could end up as compost in a Terre Rouge syrah vineyard.
5. Terre Rouge and Easton bottles are manufactured using at least 25% cullet, the name for ground up recycled glass.
6. All the bottles recycled from the tasting room end up in a bin at Amador County's waste transfer station. These bottles are shipped off to Anheiser-Busch, where they are ground into cullet and used to make beer bottles. Think of that the next time you have a Bud.
7. During wine and food events, Jane uses reusable china and glass, paper plates made from recycled materials and silverware made from plant starch.