1 minute reading time
(298 words)
Still Life Painting, The Doors and French Wine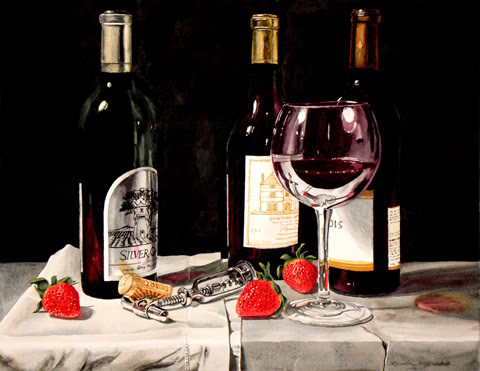 Still Life Painting "Three Wines": by Laurin McCracken
Mr. McCracken was born in Mississippi and lives in Ft. Worth Texas.
I am certain that you can find a local artist to paint your bottle!
Anyway, this whole genre got me to thinking, what wine would I like to have on canvas?
Well, it would need to be one that I also like in the glass,
like the story and want to share it with others.


Nikolaus and Carolin Bantlin originally came from Germany
but fell in love with the south of France, rock climbing and biking on holidays.
They discovered a large sheep pasture in Fitou, France,
with a small number of vines around that inspired them to start making wines.
The vineyards at Les Enfants Sauvages are hidden by the surrounding garigue
with no neighbors in sight. The only threat is the overgrowth of vegetation and the wild pigs!
Why "Les Enfants Sauvages?" Simply put, as a tribute to Jim Morrison and The Doors.
The duo behind the wines drew inspiration from The Doors' song "Wild Child"—
about finding salvation in the wild state of nature. They took the French translation for their name.
A blend of 40% Cinsualt,40%Syrah and 20% Mourvedre
The result is a lovely, finesse-driven red that's atypically light for the region.
Delicate, fresh cherry and strawberry flavors complemented by subtle mineral and earth notes.
Crisp acidity and a dry finish. Drink alone or with food. You can also put a chill on it.

There's a lot of WILD in this bottle!
And that whole Doors Thing!
Just in case you don't remember the Doors or the song,
Here is Jim Morrison and The Doors on (get this) The Smothers Brothers in 1968:
https://www.youtube.com/watch?v=6KvgAhrMGMI
Whoa. Totally worth a painting!
$24 at GnarlyVines BUT $22 @MetroWines!
By accepting you will be accessing a service provided by a third-party external to https://metrowinesasheville.com/