1 minute reading time
(228 words)
Przewalski Horse and Wild Thing Zinfandel
Got Time?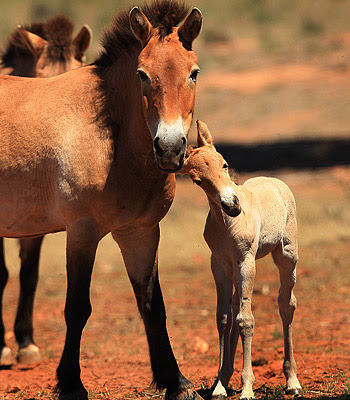 From The New York Times, Science Section
"How Conservationists Kept These horses Standing Strong"

The Przewalski Horse is the only horse species that has never been domesticated, and also managed to narrowly escape a brush with extinction.
By 1969, agriculture, hunting and a sting of sever winters had caused the species to disappear from its last range in Mongolia. some horses survived in captivity but in the 1960s, they were being inbred to the point of no return. The horse was saved, however, by a captive breeding program in zoos and by conservationists who reintroduced it back to Mongolia in the 1990s. Today, more that 760 Przewalski Horses roam Mongolia.
As the horse's story exemplifies, extinctions are not inevitable. Since 1993, conservation efforts have saved up to 48 mammal and birds species from extinction, a new study says. Without such efforts, extinction rates for mammals and birds over the past 27 years would be there to four times as high.

Your Ponder Species Conservation With Wine:
2016 Wild Thing Old Vine Zinfandel by Carol Shelton, $21
Again, trying the new is good but don't forget the classics.
This is Carol Shelton, the widely recognized Master of Zin!
92 points Wine Spectator
Spirited and zesty, with lively cherry and smoky cracked pepper flavors
that frolic on the long finish toward well-groomed tannins.
By accepting you will be accessing a service provided by a third-party external to https://metrowinesasheville.com/