1 minute reading time
(219 words)
Mt. Etna and Wine
From The MetroWines Book Suggestion Department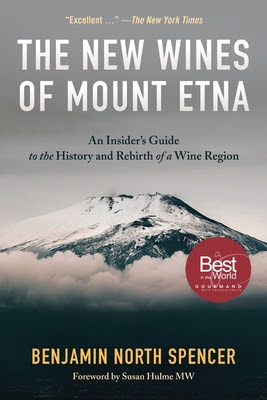 Making wine on Europe's largest active volcano doesn't come easy.
Frequent changes in topography, elevation, and weather influence each vintage
and every winemaker has an interpretation of the evolving volcanic landscape.
This is part of what makes Etna so exciting. The wines are as inviting as the terrain. For millennia the mountain served as a backdrop in the development of Europe. Today, the UNESCO Heritage Site is a destination for the world.
American wine expert Benjamin Spencer goes beyond the vines to explore
the history and rebirth of the region that has everyone talking about Sicily.
https://www.malaprops.com/search/site/new
%20wines%20of%20mount%20Etna%20spencer

Your Read it With Wines
But of course, from Mt. Etna

2018 Tascante Buonara Etna Bianca 2018 Caricante



Buonora is Tenuta Tascante's white wine from Mount Etna's indigenous
Carricante grape variety. Historically prized for its high acidity
and abundant productivity, Carricante is a multi-facited grape that ripens late
and gains complexity with aging. Grapes for the Tenuta Tascanate Buonora
are sourced from cool-climate vineyards on the north and east faces
of the volcano's slopes. Really great bottle!

More about the Winery: https://www.tascadalmerita.it/en/wines/
$21 @MetroWines by the bottle everyday all day!
As always, 10% off when you buy 6 of anything
and 15% on a case of regularly priced bottles!
By accepting you will be accessing a service provided by a third-party external to https://metrowinesasheville.com/