5 minutes reading time
(922 words)
Cabernet Franc, CAVA, Pundit, Montangnieu, Apremont, Ciao Asheville, Italian Wine Classes, Book Review, Focus Group, Spirit of the Season!
Black Eyed Peas?
First Choice: Broc Cellars 2015 Cabernet Franc
Happy Canyon of Santa Barbara, California $34
Gritty to Gritty! Naturally made of 100% Franc. 11.9% alc.



WINEMAKER'S NOTES: Harvested at night on September 5th, the grapes were placed whole cluster
into 5 ton wooden vats for fermentation and foot tread lightly in the morning with a gentle pumpover at night.
Then gently pressed into a larger stainless steel tank overnight, and racked to older barriques to age for 8 months.
Sold out at the winery and most online sites.

A Slightly Smoother Choice: Field Recordings 2016 Cabernet Franc,
Paso Robles, CA $23
100% Franc. 60% of wine aged in French oak for 6 months. 14% alc.



WINEMAKER NOTES: A rustic punch of blueberries, black cherries and red currants with a touch of mint and rosemary.


A Highly Rated, Value Minded Choice: Fabre Montmayou,
Mendoza, Argentina $13.99




WINEMAKER NOTES: Intense red color. Elegant on the nose, with red and black fruit aromas and hints of mint.
Fresh and well balanced, with a long finish. 94 Points from Tim Atkin, Master of Wine "Best in Argentina"

BUT, wait....not so fast!
The pairing depends on the amount of HEAT you add to the dish.
Let's say that you use the recipe from Chef Mashama Bailey calling for chile de arbol and 10 peppercorns!
The Asheville School of Wine says low heat works with Cabernet Franc but medium to high heat calls for Zinfandel.

Might we suggest this one:
Fiddletown Cellars 2016 Old Vine Zinfandel, Amador County, CA, $22


WINEMAKER NOTES: Bursting with rich blackberries, dark cherries and hints of vanilla.
Ultra creamy texture and dark fruit flavors dominate from front to back.

But Wait! There's More......
What if you don't want Red?

We Got This! Do the Different!
*** Go CAVA ***




Brut Cava Rose, Spain $15.99
This sparkling gem is made from 100% Trepat, one of the officially sanctioned varietals for CAVA.
Because few know of this grape, the quality far exceeds the price.
The "earthiness" of this wine will pair perfectly with the little round devils!
A golden salmon color in glass, this assertive sparkler has aromas and a palate of peach and nectarine.
90% Syrah, 4% Grenache, 4% Mourvèdre, 2% Viognier 13 months in American and French Oak
Winemaker Says: The color is deep ruby with garnet highlights. Raspberry jam and citrus with soy
and earthy undertone aromas are complemented by a brambly, subtle meaty character.
A smooth mouthfeel glides into a long silky finish
with flavors of juicy blueberry, hints of tobacco and subtle gamey undertones.
The Pundit Syrah was brought from bud break to bottling under the careful supervision of Rhône superstars
Michel Gassier and Philippe Cambie with Chateau Ste. Michelle winemaker Bob Bertheau,
and highlights the potential for Syrah's ripe sweetness as opposed to its savory side.
If Syrah has scared you away before due to its occasional leanings to the black-olive side of the flavor spectrum,
you owe it to yourself to try this. Medium body featuring abundant black fruit and just a hint of spice.

70% Altesse/30% Mondeuse and Chardonnay. Planted on Jurassic limestone soils,
made by méthode champenoise.
Though the wine is not vintage-dated, it is always single-vintage (in this case 2015).
The high proportion of Altesse and the presence of Mondeuse is unusual in a Montagnieu sparkling.
Most are Chardonnay heavy. This is indicative of Peillot's emphasis on these two local varieties in his wines.
The vine age for all three varieties averages 30 years, with some plots of Altesse and Mondeuse up to 60 years old.

100% Jacquere from Savoie. Mirroring the famous clay and limestone that nurtures these grapes.
This wine is a rough, crumbly, unpolished dagger holstered in a smooth, creamy leather sheath.
Aromas of honeycrisp apple and stone fruits open for bracing acidity, a light/medium body and a sharp mineral core.
The Italian Cultural Forum in Asheville
** Kick Off Party **
Wednesday, January 16th
5:30 to 6:30 @MetroWines

Pizza and Wine "on the house"
And a presentation by Mike Tiano of Haw River Wine Man
on Chianti: Then and Now!
Hosted by The Asheville School of Wine
Event is "On the House" but please register here:
https://metrowinesasheville.com/store/product/ciao-asheville-kick-off-party/

And Follow "Ciao Asheville" on FB Here:
https://www.facebook.com/CiaoAsheville/


Italian Wine Classes!
Northern Italy: January 24th
Southern Italy: and 31st
from 5:30 to 6:30 @MetroWines

Presented by Andy Hale
Director of The Asheville School of Wine
https://metrowinesasheville.com/wine-blogs/blog/
entry/northern-and-southern-italian-wine-clases

Sponsored by "Ciao Asheville!"
The Italian Cultural Forum in Asheville!
Follow us here: http:// https://www.facebook.com/CiaoAsheville/
Review by Publishers Weekly
James Beard Award winning wine importer Theise celebrates unassuming vintages.
Theise supports "small-scale family viticulture" over commercial operations,
and offers guidance for interpreting and enjoying the distinctive wines he favors.
He reveals how industrial producers manipulate flavors to appeal to mass markets by using oak,
or adding residual sugar; shares his opinion of "coarse" high-alcohol wines and cautions about trendy,
natural wines that can be "no more virtuous than body odor."

Theise philosophizes about his relationship with what is, to him, much more than a beverage:
This intoxicating book shows a path to savoring good wine, body, and spirit.
Asheville Wine Focus Group
Wednesday, January 9th from 5:30 to 6:30 @MetroWines
Welcome Richard McKinney and Nick Demos


from Tryon Distributing
Register Here: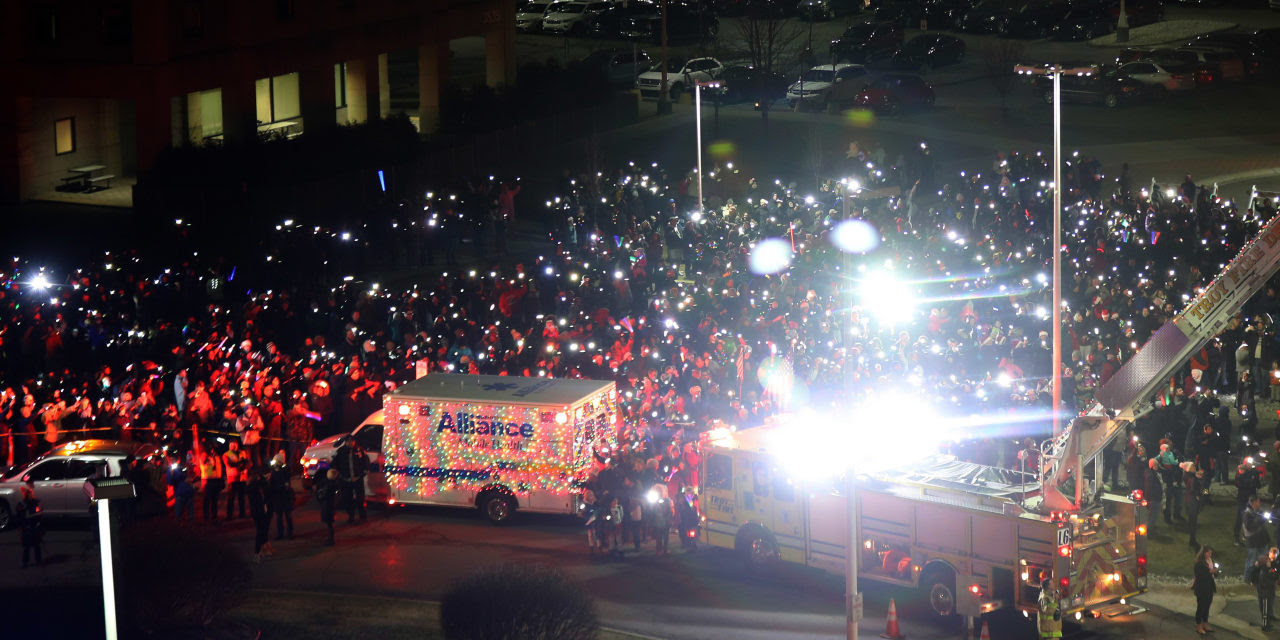 And we leave 2018 with this Great "That's the REAL Spirit of the Season" Story:
Hundreds of people gather outside the Detroit Children's Hospital to shine flashlights as a holiday gift to patients.
https://www.wsj.com/articles/flash-mob-with-flashlights-shines-holiday-cheer-to-sick-children-11545656400