8 minutes reading time
(1695 words)
Mira Dinner, Calabria, Celine&Co. Dinner, Rickety Bridge, MidCentury Kitchens, Steele, Moringa, Pink Pegau, Summer Whites, Sauvignon Blanc, Decorating with Books, Klinker Brick, Focus Group!


Mira Wine Dinner with Winemaker!
at Smoky Park Supper Club
Thursday, June 6th at 6:30
https://metrowinesasheville.com/wine-blogs/blog/entry/
mira-dinner-at-smoky-park-supper-club

*** This is BIG. This is Mira! ***
And this is Coming Up! Call Now!

Call Smoky Park at (828) 350-0315

Event Posted on Carolina Epicurean!
https://carolinaepicurean.com/2019/05/mira-wine-dinner-at-smoky-park-super-club/
Calabria is Back!
More Specifically, "Ippolito" is back in the House.
In 1845, Vincenzo Ippolito stamped his initials on a country house that sat amongst vineyards,
olive groves, and orange trees in the heart of the Marina of Ciro. With a 160+ year history, Ippolito is Calabria's oldest winery. Located in the historic center of Ciro Marina, the heart of Calabrian wine-growing, the company maintains a farm amongst rolling hills and sunny plains near the Ionian Sea.
The company's mission is the restoration and enhancement of indigenous grapes.
More about Ippolito from Wine Spectator
https://www.winespectator.com/articles/calabrian-wine-rocks



Mare Chiaro (clear sea) is 100% Greco Bianco, a grape indigenous to the area at the Ionian Sea.
This Calabrian white has an explosive nose full of fresh flowers and bright citrus.
All steel tank, no oak to preserve freshness and fruit. Organic.
Note: For Sauvignon Blanc Fans looking to step outside their comfort zone,
this is a good choice. Fresh, snappy, flavorful.


100% Galioppo aged in French Oak.
Ruby red in color with a light purple hue, complex aromas of wild berries, violets,
spice and a soft note of oak provided by barrique aging. A full-bodied, rich and velvety wine.

Wine Dinner at Celine and Company

"Asian Fusion with a French Kiss"

Wednesday, June 12th, 6:30
Grapevine Distribution and MetroWines

Check Out This Menu!
https://metrowinesasheville.com/wine-blogs/
blog/entry/wine-dinner-at-celine-and-company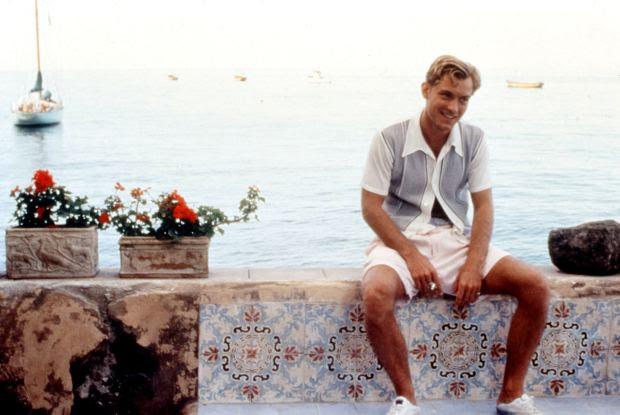 The Jude Law Retro Shirt Look
https://www.wsj.com/articles/this-retro-shirt-will-make-you-look-like-
jude-law-this-summer-11558461045?mod=newsviewer_click
This is probably for the more Avant Guard Dad.
Let's pair the present with a wine that is a little outside the Dad comfort zone.




Rickety Bridge 2017 Pinotage, $26
Rickety Bridge is a boutique wine cellar situated just on the edge of Franschhoek village
in South Africa. With just an hour or so drive from Cape Town, the vineyard is a favorite
with tourists to Franschhoek with its picturesque setting and great quality wines.
This classic pinotage is produced from vines in the Swartland region. A smooth Pinotage showing some earthy characters and underlying dark berry flavors and a hint of bramble. It's So Dad.
From The MetroWines Book Review Department
Since We Are talking Retro Shirts and Wine Here:
Let's Move Inside with "The MidCentury Kitchen"
by Sarah Archer
Nearly everyone has experienced cozy, welcoming kitchens packed with conveniences
that we now take for granted. Sarah Archer, takes us through a simpler time,
shows how the 1950's prosperity kicked off the technology and design of today's kitchens.
While contemporary appliances might look different and work better than those of the 50s, the midcentury kitchen has yet to be improved upon. During the consumerism of midcentury America when families were ready to put their newfound prosperity on display, companies from General Electric to Pyrex to Betty Crocker were there to usher them into a new era. Counter heights were standardized, appliances were designed in fashionable colors, and convenience foods took over the family table.
The Midcentury Kitchen captures the spirit of an era-and a room-where anything seemed possible.
Your Read It With Wine?
A California Chardonnay but of course!

A blend of fruit that is 48%Santa Barbara, 43%Sonoma and 9%Mendicino,
this bottle showcases what Jed Steele does best, blending grapes from various vineyards!

Jed says: With the exception of the Lolonis vineyard fruit (which was stainless steel fermented and then barrel aged for 4 months). Our cuvée is fermented in barrel (20% new) and aged sur-lees for about eight months. Stirring the barrels regularly aids in the completion of malo-lactic fermentation, yielding complexity, depth of flavor and aroma. The Santa Maria vineyards add a tropical fruit character to the wine, flavors and aroma of mango, pineapple, and papaya. The Sonoma vineyards attribute citrus character and acid to the cuvée. The Mendocino vineyard, Lolonis, has a flavor profile that leans toward apples aromas of apple crisp and cinnamon. $21
The Moringa, a chewy green plant in Africa,
may be the next Superfood
https://www.wsj.com/articles/thats-not-sand-its-superfood-11558706692




What's is all about? The leaves are usually served as vegetables. Looking like giant string beans,
but tasting somewhat like asparagus with a touch of horseradish, they are highly nutritious.
For one thing, they provide a good balance of all the essential amino acids.
That alone is unusual in a plant food, but these pods also possess one of the highest vitamin C levels of any tropical vegetable, not to mention goodly quantities of vitamins A and B. And beyond all that they are among the best sources of minerals. Most parts of the plant are not only edible but nutritious.

Tasty but tricky to pair. Let's GO Rose
Specifically, 2018 Pink Pegau, by Laurence Feraud, France

The Winemaker:



The Wine
80%Cinsault, 10%Carignan and 10%Grenache. Pink Pegau features a deep pink salmon color,
bright and clear. With an aroma that is more like a red wine than a rose, Pink Pegau opens
with aromas of peach and red currant. On the palate, find flavors of grapefruit and berries with notes
of "garrigue." Fresh acidity and long finish. This rose could even handle grilled meats!

What is garrigue? Wine Spectator says:
"Garrigue" isn't used that often as a wine descriptor, but all the examples I've ever seen
have used it with a positive connotation. As I've written before, garrigue refers to the low-growing
wild vegetation in hills of Mediterranean coast, including juniper, thyme, rosemary and lavender.
It's not just a single note, but the sum of them together.
Let's say I'm trying to describe a wine, and I pick out a lavender note. Sometimes that note is so distinctive that I'll just say "lavender" or "dried lavender," if there's that added touch of dried leaves. Sometimes the lavender note is less focused, so I might just use "floral" instead.
But if it's mingled with a fresh herbal, minty note, that's when I will use "garrigue".

*** Summer Whites ***

Scaia Garganega & Chardonnay 2017 $12.99 (Italy)
The name Scaia is a local colloquialism referring to parmesan cheese crumbs which
resembles chalky area soil. A blend of 55%vGarganega and 45% Chardonnay from Veneto.
After harvest and cold maceration of the whole bunches, the press is filled with a layer of nitrogen, forming an oxygen-free barrier during pressing that concentrates flavors. The wine is then aged in stainless steel with weekly stirring of the lees until bottling. The resulting wine is lush,
fruit forward and highly aromatic and perfect for summer.
Tasting Notes: Aroma of white flowers of acacia, jasmine as well as pineapple, grapefruit and orange, apple, pear and mango and a light note of bananas. Flavor that are fresh and pleasant thanks to
its sustained acidity. Well balanced softness and tanginess, making it inviting and intriguing.

Samorens Cote du Rhone $12.99 (France)

Variety: 35% Roussanne; 30% Viognier; 25% Grenache Blanc; 5% Clairette; 5% Marsanne
Winemaker's Notes: This bright, pale-golden wine opens to aromas of white fruits and flowers.
On the palate, it is nicely balanced with freshness provided by the Clairette
while the Grenache gives it body and a gentle softness.
Straight-UP Sauvignon Blanc

Delaille Val de Loire 2018, $14.99
Kermit Lynch Import



Sauvignon Blanc vines set amongst the picturesque hillsides of Cheverney set stage for a delicious series of IGP wines from Domaine Delaille. A contemporary of Sancerre and other Loire Valley favorites, this wine packs juicy citrus and tropical fruits with bracing acidity.

Let's reintroduce Kermit Lynch: "Raised in San Luis Obispo, his name has become synonymous with quality French and Italian wines. In 1972, with a $5,000 loan and a vision, Kermit Lynch, a writer and musician, opened "Kermit Lynch Wine Merchant" with 35 cases
of wine stacked on the floor. With a preference for Old World wine, Lynch became a retailer, distributor, and importer for authentic wines that express their terroir. His influence endures and he can claim success introducing the wine world to many small, artisan producers.
John Kerr of The Asheville School of Wine says:
"Think of this one as a baby Sancere."

*******************************************
Peter Yealands 2018 Sauvignon Blanc, $15.99


Presents notes of citrus blossom and passionfruit, underpinned with aromas
of fresh herbs and lemon zest. The palate is full and lively with tropical fruit that
is balanced with a long, crisp mineral finish. Yealands Estate maintains an absolute commitment
to sustainable wine production from vine to bottle. Yealands has already achieved
a high industrial sustainability rating and has also been awarded carboNZeroCert™ status,
joining a select group of wineries around the world who have earned this recognition.
Decorating with Books




Interest in books, although not necessarily to read, has exploded. The concept
of a collectiondates back to the 1820s in Britain. Hotels, offices, Restaurants are using
books to make a statement as well as bring interest and color to their establishments. And companies are stepping up to meet the demand. Books By The Foot, sells books by subject, color (robin's-egg blue is popular), even by titles that being "fresh" to mind like
"Whispering Willows" and "Modern Enchanted Forest."
And yes, you can buy a stack of wine books! Check it out:
https://www.booksbythefoot.com/shop/pc/Wine-4p70.htm

We can help you complete the shelf with the perfect bottle to enhance any collection.
As you know, we pair with anything!
Let's say you have chosen the wine book collection. Might we suggest a bottle that is
not too ostentatious or, shall we say, overly value minded but shows that you
are a keen shopper who finds excellent quality to price ratio bottles.

Klinker Brick "farrah syrah," Lodi 2015, $22




The 2015 Syrah exhibits aromas of currant, baking spice, cacao and smoky oak
with subtle earthy and floral notes. The palate is greeted with bright and vibrant flavors
of blackberry, anise and exotic spices. Supple tannins and superb balance lend structure
to this full-bodied Syrah with a long, lingering finish. And it looks nice on a
The Asheville Wine Focus Group
"Manager's Special"




Wednesday, June 12th from 5:30 to 6:30
@ and ONLY @metroWines
Call (828) 575-9525
online: https://metrowinesasheville.com/store/product/wine-focus-group-june-12/
By accepting you will be accessing a service provided by a third-party external to https://metrowinesasheville.com/