We Leave You This Week with a Heartfelt Message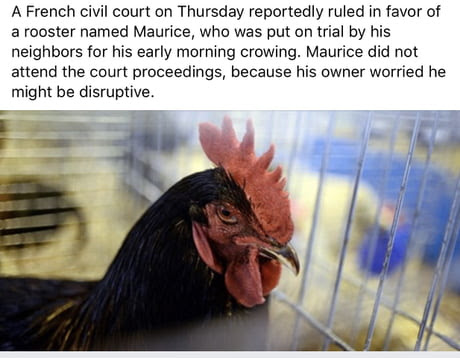 The crowing coq from Oléron, a small island off France's western coast,
became a national hero last year when he and his owner were sued
by second-home neighbors who wanted Maurice removed for making
too much noise and waking them up on their vacation.
When, in 2019, Maurice passed away, we posted his Last Testament.
His words have been raised again to review in these troubled times.
https://www.nytimes.com/2020/06/26/opinion/maurice-rooster-france.html
Honor Maurice and his words with Classic French
2019 Macon LaRoche Vineuse
from Chateau de la Greffiere
The Mâcon la Roche-Vineuse Vieilles Vignes is made of over 50 years old vines, which brings more depth and strength, but also less yield than the young vines.
Château de la Greffière
aged their Vieilles Vignes in barriques, which gives
it elegance and structure, as well as a delicate oaky aroma.
A powerful and fruity voluminous Mâconnais in a classy suit.
$19.99