1 minute reading time
(157 words)
Jackie, White Jackets, White House Menu and Macon
The Casual White Jacket is Back

https://www.wsj.com/articles/jacqueline-kennedy-
onassis-style-a-white-back-to-work-blazer-11592327851
This look definitely calls for white wine. WhileThe Kennedy White House served
domestic wines on occasion, Jackie preferred French Wine. And this is in great part
because the California wine rush had not yet happened. Nevertheless: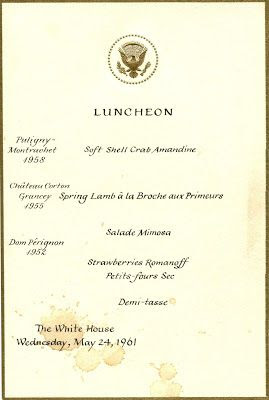 Your Wear it With Wine
Twice in the Wine Spectator Top 100 Wines
Made by Vincent and Isabelle Greuzard from old vines, this wine is straw yellow
with silver glint in glass, hazelnut on the nose, round and dry on the palate.
Half old oak barrels, half new. The village of La Roche Vineuse (meaning vinous rock)
appropriately named for the bevy of limestone found in the vineyards,
is located in the heart of the Mâconnais, and captures its true "terroir".
Balancing richness with minerality; the mid-palate and length are classic Burgundy.
Brett Watson says: "This bottle drinks like high quality
White Burgundy for a fraction of the price."
The 2018 is $19.99
By accepting you will be accessing a service provided by a third-party external to https://metrowinesasheville.com/