3 minutes reading time
(643 words)
Groth Wine Dinner at Grove Park Inn
News Release: Saturday, May 7th, 2016
Re: Groth Wine Dinner with Suzanne Groth at Grove Park Inn
Please join the Asheville School of Wine for a wine pairing dinner at The Grove Park Inn serving the highly regarded wines from Groth Vineyards and Winery in Oakville, California, hosted by Suzanne Groth on Wednesday, June 8th at 6pm.
Groth Vineyards & Winery was established in 1982, and they crushed the first grapes for their own wines that same year. Production increased quickly to 30,000 cases by 1984. By 1985, the winery needed full-time attention from Dennis and Judy, so they moved their family to the Oakville property. In 1990 the original winery building was completed; a major expansion of facilities was completed in 2007. Since 1982, Groth Vineyards & Winery has established a solid reputation as an outstanding producer of Napa Valley wines.
Your host, Owner and Vice President of Sales and Marketing, Suzanne Groth, is also an artist. Guests at the Groth Wine Pairing Dinner will receive a print from Suzanne Groth!
Contact: Gina Trippi
Charlotte Street! It's the Next BIG Thing!
"Big Shop Selection. Small Shop Service"
Shop:
828-575-9525
About Suzanne Groth:
Owner, Vice President of Sales and Marketing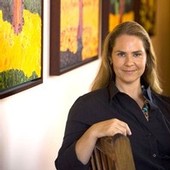 The vineyards of Oakville are both home and inspiration to Suzanne Groth, and her career and art continue to be profoundly influenced by the vineyards that surround her.
Throughout high school and during summer breaks from college, Suzanne helped out around the winery. In fact her first job was cleaning her parent's office on weekends, later working her way up to a tasting room position. Graduating from Lewis and Clark College in 1992 with a Bachelor of Arts degree in art history, Suzanne entered the art world, working in a gallery. Soon, deciding on a career in wine, Suzanne spent four years with the Henry Wine Group, a California wine distributor, selling fine wine to restaurants and retailers in the San Francisco Bay Area. She says, "It was only after selling other people's 'wine vision' that I was able to appreciate how very special Groth Vineyards was." She returned to the family business in 1998, working several years in wine sales and Public Relations before becoming VP of Sales and Marketing in 2009.
Traveling throughout the country, Suzanne learned first hand about the complicated business of wine distribution and customer relations. With the birth of her children, Jackson Groth Jones, and Genevieve Groth Jones, she has an even greater interest in working to ensure the success of the family business for the future of the next generation.
In January of 2009 Dennis and Judy increased the level of ownership to active partners, Suzanne and her brother Andrew, to 22% of the business to each. With increased ownership comes the responsibility of all points of sales and distribution, while her brother overlooks all aspects of farming and winemaking. Suzanne continues to oversee all aspects of direct-to-consumer sales including the retail room and the popular Team Red Stripe and Groth Cabernet Only wine clubs. Alongside her duties at the winery, she serves as the Napa County District Director for The Wine Institute, is active with Oakville Winegrowers, and serves on a committee for the Napa Valley Vintners Association.
Intertwining her art, family, and work, with each release of a Groth Reserve Cabernet Sauvignon, Suzanne produces a new painting. These paintings grace the walls of the winery, and one hangs at the Wine Institute in San Francisco. "Painting gives me the chance to portray our story and my family's dedication to our land from a different perspective," she says. "Growing up in Oakville has most definitely influenced my palette and eye."
By accepting you will be accessing a service provided by a third-party external to https://metrowinesasheville.com/