2 minutes reading time
(454 words)
Girls of Atomic City by Denise Kiernan
From the "MetroWines Book Review" Department
and The Metro Wines "You Just Never Know" Department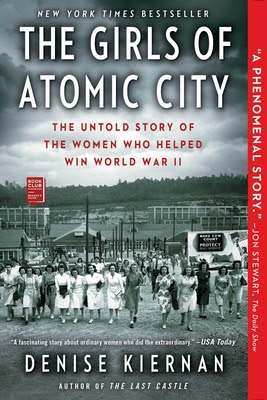 At the height of World War II, Oak Ridge, Tennessee, was home to 75,000 residents,
and consumed more electricity than New York City, yet it was shrouded in such secrecy
that it did not appear on any map. Thousands of civilians, many of them young women
from small towns across the U.S., were recruited to this secret city, enticed by the promise
of solid wages and war-ending work. The purpose of this mysterious government project
was kept a secret from the outside world and from the majority of the residents themselves.
"Kiernan has amassed a deep reservoir of intimate details of what life was like for women living
in the secret city...Rosie, it turns out, did much more than drive rivets." The Washington Post
---
Denise Kiernan is the author of The New York Times and The Wall Street Journal bestseller
The Last Castle. Her previous book, The Girls of Atomic City, is a New York Times,
Los Angeles Times, and NPR bestseller. Kiernan has been published in The New York Times,
The Wall Street Journal, The Village Voice, Ms., Reader's Digest and Discover.
She worked in television as head writer for ABC's Who Wants to Be a Millionaire
during its Emmy award–winning first season and producing for media outlets
such as ESPN and MSNBC. She has been a featured guest on NPR's "Weekend Edition,"
PBS NewsHour, MSNBC's Morning Joe, and The Daily Show with Jon Stewart
and a customer @MetroWines!
Denise says: "The gang at Metro Wines is fun, friendly, and boy do they know their stuff.
We are so lucky to have them as a part of our Asheville community,
especially during these trying times."

Buy the Book Here:
https://www.malaprops.com/book/9781451617535
"Read it With Wine"
Pierre Marie Chermette Beaujolais 2018, $18.99


Brimming with bright, fresh raspberry, this is a wine of purity and finesse.
It absolutely shines, even among the scores of lively Beaujolais bottling available.
Pierre Chermette and his wife Martine have produced some of the best vintages
in Beaujolais over the past two decades. The farm follows organic, natural, and biodynamic
wine-making practices. Vines have low yields of extremely high quality, ripe Gamay fruit.
Fermentation in oak foudre using only natural yeasts found on the grapes,
no use of sulfur and unfiltered. The wine is violet-blue in color and slightly cloudy
in the glass, with aromas of berries and wet earth. The wine is rich and fresh
on the palate with fresh fruit and mix of minerals and acidity. Versatile with food or solo.
Serve with a slight chill. This is a great warm weather wine.
Want to Keep UP with Denise Kiernan?
Facebook: https://www.facebook.com/DeniseKiernanAuthor/
Instagram: http://@iamdenisekiernan
Twitter: http://@DeniseKiernan>
Website: https://www.denisekiernan.com
By accepting you will be accessing a service provided by a third-party external to https://metrowinesasheville.com/