1 minute reading time
(298 words)
Fontanavecchia: Deal of the Week
*** Big Deal of The Week ***

Sannio Piedirosso Fontana Vecchia 2017
Azienda Agricola Fontanavecchia, Piedirosso, Taburno, Campania, Italy,
{organic} 100% Piedirosso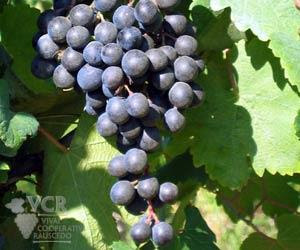 BRIGHT CHERRY & BERRY, ROSES & DISTINCT SMOKINESS
One of the rarer single-varietal reds to come out of Campania, Piedirosso is more often used
in blends where it softens the intensity of bolder varietals (typically Aglianico).
This example from Fontanavecchia shows off bright, brambly berries, radiant red roses, black pepper,
soft tannins, and a definitely distinct aroma of campfire ash - a direct result of the very volcanic soil.
Mount Vesuvius is nearby, and looms large over the land and culture. If you've ever been confused
by the term "minerality," here's a volcanic, solid stepping stone to understanding.
***MetroWines Teaching Moment ***
Piedirosso is a black grape exclusive to the Campania region and not grown elsewhere.
The name Piedirosso ("red feet") derives from a peculiarity of the vine,
namely the color of the pedicel of the grapes, which reminds of pigeons' red feet.
This vine has very ancient origins: The scolar Carlucci sustains that it is identical
to the Palombina nera vine cited by Herrera-Sederini (in the XVI century),
which itself is thought to go back to the Colombina vine described by Pliny the Elder
in his "Naturalis Historia" (I century). Its tannins are less aggressive and its acidity
is lower than that derived from Aglianico grapes. As a consequence wines from Piedirosso grapes
are less tannic, less structured, softer and more balanced, with fragrances of red fruits.
In the glass, the wine is an intense ruby red with violet glints.
The fragrance is refined, fruity notes of raspberry and cherry, flowery notes of roses and geranium.
The taste is dry, slightly tannic and of good intensity.
All This and only 13% ALC!
13.99 @MetroWines
By accepting you will be accessing a service provided by a third-party external to https://metrowinesasheville.com/