1 minute reading time
(259 words)
Family Portrait with Food Fight and Wine
The Family Portrait with Food Fight
But at least they are wearing clothes!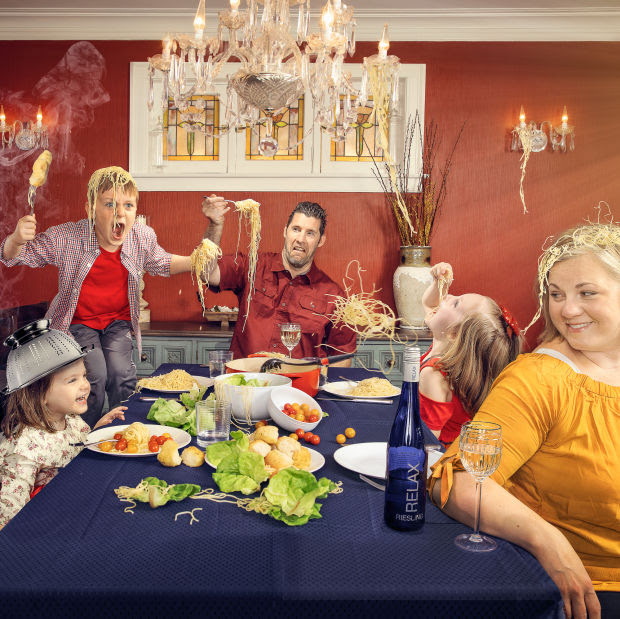 https://www.wsj.com/articles/the-family-portrait-now-with-food-fights-11581345958
In the year 2020, the dinner table can be a volatile place.
Serve a wine that won't add to the chaos.
I asked Brett Watson of The Asheville School of Wine to select a wine
that is uncontroversial and a proven crowd pleaser. And he said...



"The only way to cut through a healthy dinner table family argument that I know of,
is with a bottle of Washington based "Involuntary Commitment" from the Columbia valley.
Cabernet Franc dominates the blend and structurally backed up warm-climate
Cabernet Sauvignon. Merlot rounds it out in case Mom needs some more dark fruit.
21yr old college student son likes the fact that the wine is fermented with native yeasts
in steel tanks and Dad loves the old French oak aging process.
Bottom line, on hot dog night or haute cuisine with candles...
no argument can stand up the Involuntary Commitment! "

A blend of Cabernet Sauvignon, Merlot and Cabernet Franc.
We believe that with so much great fruit coming out of our vineyards,
it would be shame not to spread the wealth. This medium body wine exhibits
a dark garnet color with a bouquet of dark fruit, herbs, earth and hints of tobacco.
On the palate, flavors of cherry, red currants and spices shine through.
This wine is fresh, youthful, ready to drink. but will cellar nicely over next 5 years.

This Washington State Wine Got Popular.
2018 is New to Market. Already on shelf @MetroWines, $25
By accepting you will be accessing a service provided by a third-party external to https://metrowinesasheville.com/