5 minutes reading time
(1045 words)
Blue Ridge History and Eats

Story by Julie Hubbard
Julie Hettiger at left in Wilkesboro, Anna Kerley (now Holland) with Blue Ridge Parkway Ranger at front door of Bluffs Restaurant and Coffee Shop in 1966. Photo courtesy of Blue Ridge Parkway Foundation.
Interior renovations of the Bluffs Restaurant and Coffee House on the Blue Ridge Parkway near Laurel Springs are scheduled to start in a few weeks in preparation for a scheduled midsummer opening.
To help raise remaining funds needed to complete work on the historic facility, former Wilkes County resident Julie Hettiger and her husband, Ken Nelson, have announced that they will match donations for the work dollar for dollar up to $25,000.
Julie Hettiger, Author of the upcoming book about the culinary tradtions along the Blue Ridge Parkway!
"When I was growing up, the Bluffs restaurant was the favorite destination for Sunday outings with my grandparents, my parents and many other relatives, and I have always cherished those memories," said Hettiger, daughter of Holly Farms co-founder Harry Hettiger. "For my family, driving up the mountain from Wilkes County to Bluffs restaurant was a monthly trip. Guests and relatives would always join us for fried chicken, grits, cobbler and the real deal—ham biscuits."
The restaurant opened in 1949 in a building completed the same year and was an attraction for Parkway visitors and residents of Wilkes, Alleghany and other area counties until it closed in 2010 when no one stepped up to take over an expired contract with the National Park Service (NPS) for operating the eatery.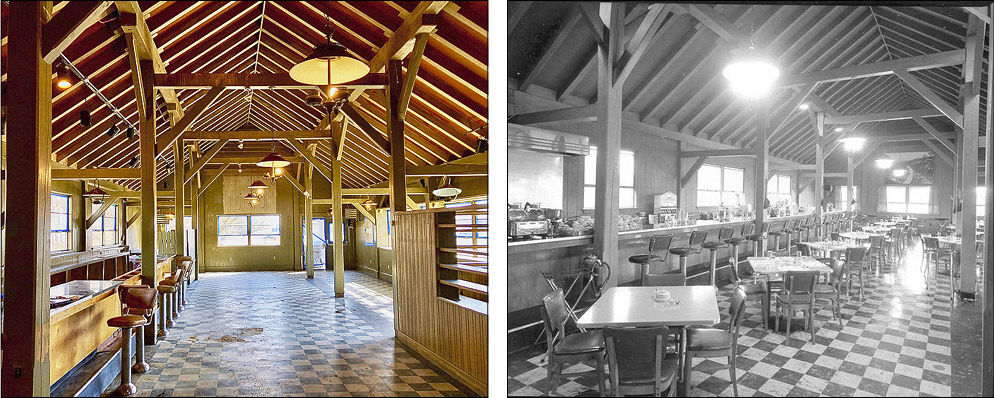 Original Interior of the Bluffs Restaurant and Coffee Shop at right. Current condition at left.
Photos courtesy of Blue Ridge Parkway Foundation.
The Blue Ridge Parkway Foundation responded to an outpouring of public interest by conducting fundraising for reopening the Bluffs Restaurant and Coffee Shop, which required extensive renovation, new equipment and infrastructure and remediation of mold that appeared while it was shuttered.
All but about $60,000 needed toward the endeavor's total cost of $942,280 has been raised, said Rita Larkin, foundation communications director. This includes a $300,000 Appalachian Regional Commission grant and $350,000 from the N.C. legislature in consideration of the restaurant's role as a tourism anchor enabling visitors to spend more time in the area and 14 new jobs it will provide.
The foundation, a private, nonprofit based in Winston-Salem and founded in 1997, is the Parkway's primary fundraising partner. For more information or to make a donation, including in response to the challenge grant, go to BRPFoundation.org.
The foundation leased the property through the NPS historic leasing program and advertised for someone to operate the Bluffs restaurant. Larkin said concessionaire applications for operating the restaurant are no longer being accepted and a new operator will be announced in March.
Foundation CEO Carolyn Ward called the challenge grant of Hettiger and Nelson a huge step toward securing final funding needed. "It is another example of how meaningful this revitalization project is to the community and thousands of Parkway visitors who stopped here," said Ward.
Hettiger said, "My husband and I are very excited that the foundation is so close to reopening the restaurant, and we have created this challenge grant to get the project across the finish line."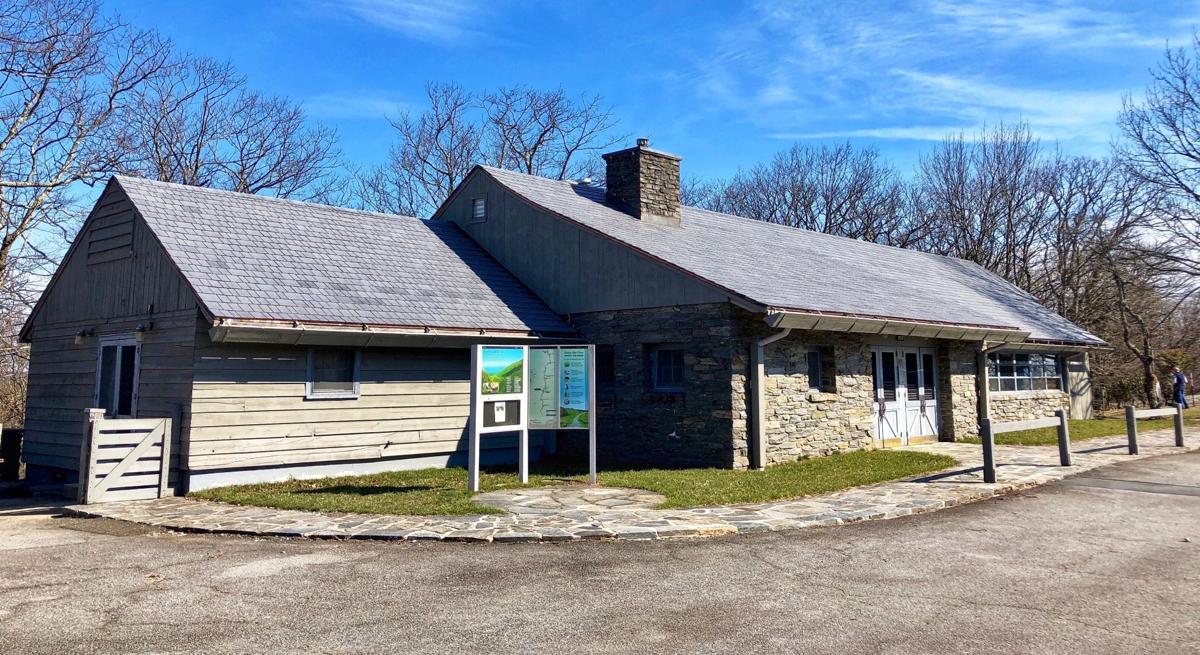 The Bluffs Restaurant and Coffee Shop in Doughton Park, Near Laurel Spings, south of Sparta and north of North Wilkesboro. Photo courtesy of Blue Ridge Parkway Foundation
Remediation of the mold problem was completed in 2016 and a new roof installed in 2018. New state-of-the-art kitchen equipment and amenities will soon be installed and HVAC, plumbing and electrical work completed to meet current safety standards. The project also includes new furniture and communication equipment.
The work is being carried out in accordance with NPS and N.C. Historic Preservation Office guidelines to maintain the property's original features and historical nature. Hickory-based Atriax Group is overseeing the design and construction.
"Members of the surrounding communities and people from across the country hold fond memories of their experiences at The Bluffs," said Willa Mays, the foundation's chief development officer. "We are honored to play a role in bringing this special place back to life for all the people who have championed its return over the past 10 years."
At Milepost 241 in Alleghany, the Bluffs Lodge and Coffee Shop was the first provider of meals on the Parkway. It seated 76 and was one of only four restaurants on the Parkway. The Bluffs Lodge, in another area of Doughton Park, was the Parkway's first lodging. There are no plans to reopen the lodge.
Hettiger is collecting recipes used in the original Bluffs Restaurant and Coffee Shop for a book she plans to publish as a fundraiser. She and her husband now live in Asheville and she can be reached at jhettiger@aol.com.
The foundation also is seeking photos of the restaurant or any mementos featuring the Bluffs logo from its operating days. To share images, contact Larkin at rlarkin@brpfoundation.org or 866-308-2773, ext. 418.
Hettiger graduated from Wilkes Central High School and East Carolina University and worked in the Lowe's Companies Inc. advertising department before moving to Houston, Texas, where she had a long career in food styling and food photography. She is a standing member of International Association of Culinary Professionals.
She also is on the Boone-based Blue Ridge Conservancy Board of Trustees, which has protected over 20,000 acres of forestland and farmland in Wilkes, Alleghany, Watauga, Ashe, Avery and Yancey counties through conservation easements and deed transfers.
Read More About The Blue Ridge Parkway Foundation HERE!
From National Picnic Day, a time honored recipe passed down from Julie's mother!
Skillet Fried Chicken!

1 whole chicken cut into pieces

or 8-10 chicken pieces, cut up but Must have Skin On.

2 cups white flour

6 TBS garlic salt

1-2 TBS Seasoning salt

Black pepper,ground

In a brown paper bag ,toss flour and seasonings with chicken until well coated.

Using the fatty pieces of chicken ,place in preheated cast iron skillet. Remove after their/fat has been rendered.

Add the coated pieces of chicken skin side down into the medium hot skillet.

After the chicken pieces have seared

,but not burned, place entire skillet into 350 oven.

15 -20 minutes usually allows for completely done crispy chicken.

remove from hot skillet and drain.

Pack up your picnic and have fun.
By accepting you will be accessing a service provided by a third-party external to https://metrowinesasheville.com/