1 minute reading time
(218 words)
Blow Up Dolls and Reto from Manchuela
The People at the Next Table are Real Stiffs
To give the look of a a fuller restaurant and to ease the discomfort of being isolated at a table,
many restaurants are bringing in mannequins or fake diners made of plastic or cardboard.
https://www.wsj.com/articles/pandemic-restaurant-diners-
socially-distance-with-mannequins-shower-curtains-rosemary-plants-11590513510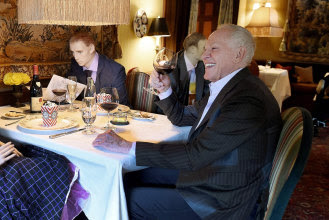 What does one order when you a sharing a table with literally, plastic, people.
This is the time to experiment. Try something new.
Hey, you are already having dinner with blow up dolls!



Bodegas Ponce Reto 2018
Manchuela, Spain
"Reto is the first white wine made in our winery.
Produced from 4 different vineyards 40-60 years old.
Grape varietal is Albilla and vineyard soil is mainly calcareous.
Wine is aged for 8 months in old barrels 600-700 liter capacity."
From a cooler year than 2017 resulting in slightly lower alcohol and higher acidity.
The vintage represents a style that is fresh, complex and mineral, with an austere profile and integrated oak.
It's still young and shows more primary notes of freshly cut grass and aromatic herbs,
but the core is striking minerality and spark of the granite soils. Cool-climate profile, with marked acidity,
that should keep the wine alive in bottle for a good 5 years or more.
One of the freshest Mediterranean whites from Spain. The price is simply unbelievable.
Very Difficult to Find
$23 @MetroWines
By accepting you will be accessing a service provided by a third-party external to https://metrowinesasheville.com/