*** GIFT PAIRING ALERT #1 ***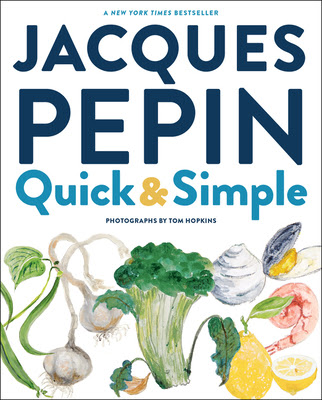 The book explores how to cook really well using simple ingredients!
https://www.malaprops.com/search/site/Jacques%20Pepin%20quick%20simple
But Wait! There's more!
When you join the Jacques Pepin Foundation, an organization that
supports training programs for chefs you receive a Members Only Cookbook.
This cookbook includes submissions from 45 contributors
including Thomas Keller, Alice Waters and José Andrés.
https://jp.foundation/news/jacques-pepin-foundation-annual-membership

You Read it With Wine is a wine that can go solo while you peruse the book
and also a wine that can pair nicely with most of the recipes.
Famille Gras Les Vieilles Vignes Cotes du Rhone 2017
Santa Duc, Winemaker
From organically and biodynamically farmed vineyards in Gigondas.
Domaine Santa Duc has been owned and run by the Gras family since 1874.
Harvesting is done by hand. Vinification is natural, fermentation with indigenous yeasts,
no additives, and very little added sulfites. Bottled unfined and unfiltered.
Blend of 60% Grenache from 40 year old vines with the rest Syrah and Mourvèdre.
13.5% alcohol. Rustic and delicious.
Brett says: "one of the best balanced Cotes du Rhone under $20."
Not everywhere. $18.99 @MetroWines
*** Gift Pairing Alert #2 ***
Naked Chef television personality Jamie Oliver considers the top ingredients
we consistently buy every week, meal staples we pick up without thinking such as eggs,
potatoes as well as prepared condiments. Jamie says we are all busy,
but that shouldn't stop us from having tasty, nutritious meals So, rather than trying
to change what we buy, Jamie gives everyone new inspiration for their "staples."
Jamie focuses on 18 popular ingredients and each recipe includes fewer than 8!
https://www.malaprops.com/book/9781250787576
Your Pair it With Book Makes, like Jamie, the Old New Again
Old indigenous grapes made in a new style. Perfect.
BAAAGADUCK, Joao Pato aka Duckman, Vinho Tinto,
From Portugal at ONLY 12% ALC !
Blend of 85% Baga, 15% Touriga Nacional
Baga (pronounce: bah-gah) Dry, Medium to full bodied with Blackberry,
Black Currant, Dried Cherry, Cocoa and Tar. Decant for an hour.
Cuts through fat and plays well with smoke. $21
"Behave Wildly. Feel the Unexpected."