Looking for ideas on how to use seasonal fruits and vegetables? The following cooking demonstrations provide instruction, tips, recipes, and ideas on plants you can grow so you have the freshest ingredients at your fingertips. Enjoy!
Cooking Demonstration Videos
Find all of the Garden's Online Cooking Demo videos in these two playlists. Explore and find new recipes to cook and new plants to grow!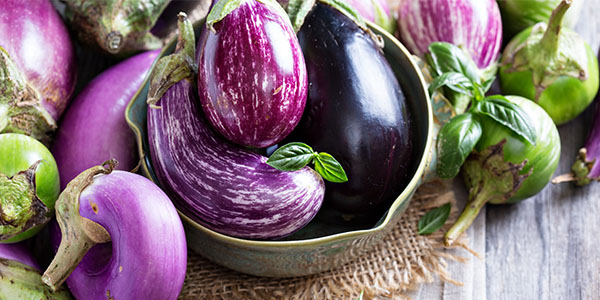 Eggplant Eggstacy!
The striking eggplant, with abundant color variations and shapes, is a versatile fruiting vegetable. Join Danielle for this online demonstration as she highlights how eggplant can be used in egg-celent ways. Then join Adrienne in her garden as she reviews what worked for her eggplant crop this year and how to prolong production even as the weather begins to cool.
DATE: Posted on Thursday, September 17
TIME: 12 noon
LOCATION: Here on our Cooking page
FREE: No pre-registration required